The famous and iconic longtail boat of Thailand--it sums up pretty much everything there is to a vacation in the south. They symbolize blue ocean, white sands and a simple lifestyle. One of the most photographed elements of the south, they are featured in ads, magazine articles and everywhere on the internet to lure folks on a vacation. Rent one for around 15 USD for a few hours and live the life.

Longtail boat at Bamboo Island

Longtail boats moored and waiting for customers at Ton Sai Bay
I wanted a different take on the longtail boat, an atypical photo, something to show it in a new light. Here I focused on the very reason it is called a longtail boat. A recycled car or truck engine can be put on a platform with a long shaft and a propeller on the end--looking like a long tail. Here the shaft is turned back onto the boat for storage. Not very glamorous from this end of the boat.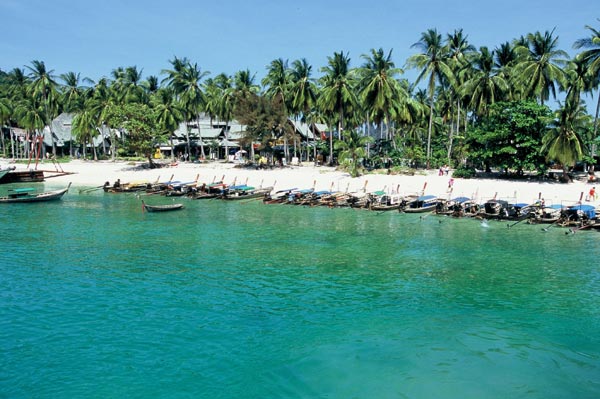 Mooring at Ton Sai Bay, with resorts in the background
Much cheaper than renting a speed boat, the longtail boat is the ideal way of reaching some hidden beaches and coves.
Ed's Photos Ko Phi Phi is created by Ed Kaspar
Copyright © 2004
All rights reserved